Discover more from The Fresh Letter
The kitchen tips you didn't know you needed (or maybe you did, I bet you're pretty smart), delivered straight to your inbox on a weekly basis. And weekly meal prep-specific content for the paying customers ;)
Over 3,000 subscribers
Best (and Worst) of 2022
The products I loved most last year and a little year in review.
Hey there,
Happy 2023! How are you doing over there in your kitchen? I'm here in mine still reflecting on 2022—it was a big year for me with very high highs and quite low lows to go along with them. So I'm hoping you'll allow me a little walk down memory lane, and we'll start with the lows because ending on a high note is always preferred. In 2022, I managed to go through a very serious bout of depression, some really difficult and sad friendship moments, a couple major professional disappointments, and a bed-ridden first trimester.
The Fresh Letter is a reader-supported publication. To receive new posts and support my work, consider becoming a free or paid subscriber.
But the highs, oh the highs! In spite of the morning sickness, pregnancy has been one of the most exciting and enriching experiences of my life to date. It's helped me deepen existing friendships and begin some new ones. On a related note, I won't gush, but I love my marriage and I've felt lucky every single day of it, especially for the past year. In 2022, I got myself into therapy and know I'm on the path to making some real, meaningful improvements for 2023 and beyond. And when I list them out, last year's professional achievements far outweigh the disappointments: I grew my TikTok account to over 60k, landed some dream brand partnerships, and with Abigail, published Meal Prep Made Simple.
SMOOTH SEGUE ALERT! In honor of the New Year, Abigail and I are running a little sale on Meal Prep Made Simple. Neither of us are *New Year, New Me* type gals—we're more into a Gentle January situation. But we know this is a time when forming new habits (or solidifying existing ones) feels accessible, so if gently working meal prep into your routine is on your list of goals for the year, we'd love to offer you a little helping hand. You can use code GENTLE for 10% off Meal Prep Made Simple.
Alright, as you read above, the things that meant most to me this past year were decidedly abstract, but I couldn't leave 2022 fully behind without rounding up some of the material items (capitalism really popped off with these) that brightened my lower days and made my high days just a little more special. Let's get into it:
---
Best (very affordable) Table Linens
The many little dinner parties I hosted this year were made all the more lovely with some beautiful table linens. I have a few table runners and one beautiful gingham table cloth from this brand and have been nothing but impressed.
Best Elevated Everyday Dish Ware
I have theses glasses in Medium Mustard, and am hoping to add a stack of the Short guys to my collection this year as well. They're delicate but sturdy, and in my opinion, well-worth the price tag because they make my daily water intake feel less like a chore and more like an *experience.*
Best Little Extra Tabletop Sparkle
I buy these tapers regularly and stock up every time Urban has a home sale. You know I think candlelight is key to good dinner party ambiance and I reach for these on the regular.
I fell deeply in love with grainy mustard this past year. I use it in my salad dressings, to fancy up some mayo, and regularly set it out in it's beautiful jar at dinner parties. In my opinion, when it comes to mustard, Maille is the best of the best—I mean, 270 years? Come on.
This was a year when I put my rice cooker to good use, and when I did, I was often making sushi rice. If I was making sushi rice, it was this brand.
This men's linen button down is sold out now, but turn on the restock notification because it'll be back in a couple months, and when it is, you'll want to pounce. It's such a good price and has held up amazingly well for me this year. I sized up and got a large, so it works as a beach cover up, but I've also worn it to dinners out with denim and a blazer and know it'll take me comfortably all through my pregnancy as well.
I am and will forever be a Gotham Greens girl. I got to work with them on the launch of their beautiful plant based dips this past year and cannot get enough of their pesto. You won't find me making this soup without it.
I made a number of changes to my drab rental kitchen in 2022, but I think the most impactful one was to the grey floors. These peel and stick tiles only took about an hour to lay down and make me feel like I'm stepping into a little French bistro every time I cook. Chic! I've linked the white above, and here's the black.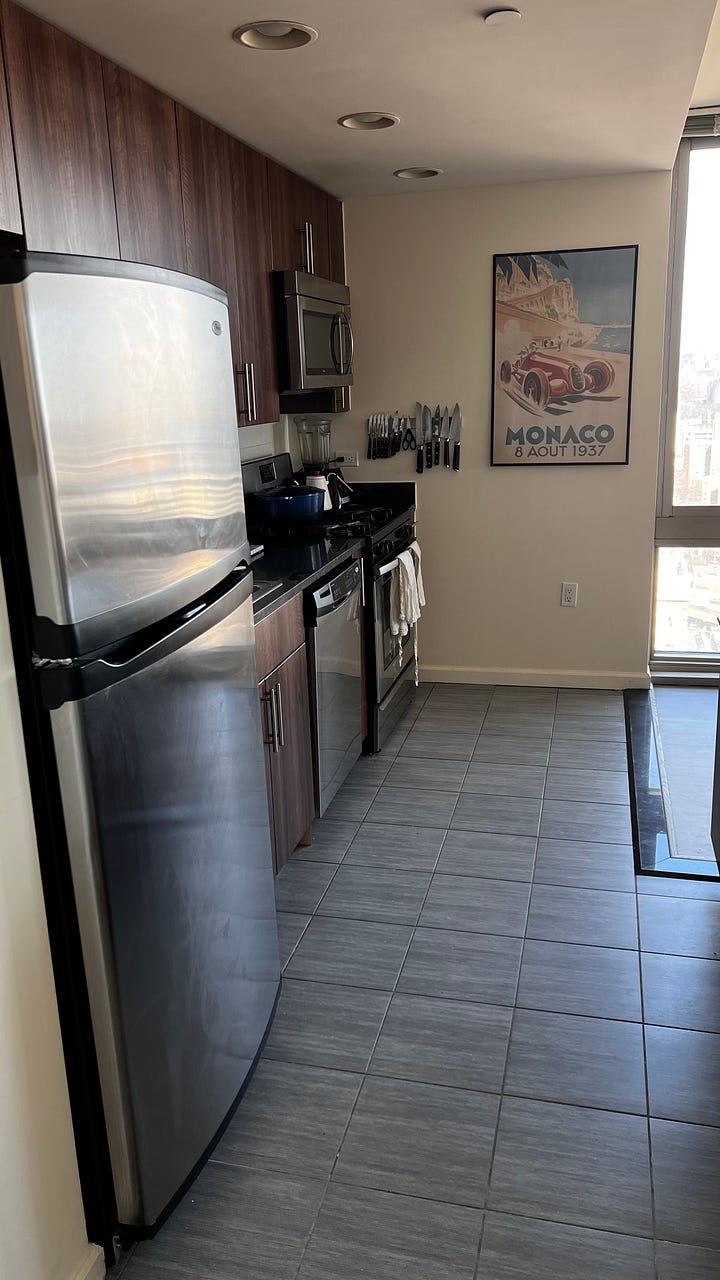 This year was chock full of gatherings, some I hosted myself, and many I was lucky enough to attend. Abigail brought me this bar of chocolate as a hostess gift for the little pizza party I threw and it was love at first bite. I've since gifted one to Oset at her holiday party and we gave them as party favors at our book launch!
Greek yogurt was one of the only things I was able to stomach for over two months in 2022. 10/10 do not recommend morning sickness, but 11/10 recommend this yogurt. I have my appetite back and still find myself reaching for it.
Abigail and I are so proud of this project, so I hope you'll allow me one final plug! Use code GENTLE and get 10% off your copy, but only until next week!
---
I think that more than sufficiently wraps up 2022. Here's to exciting things in 2023, and as always, wishing you a well-fed week (and year!!) ahead.
With love and a tip of my chef's hat,
Erica
Want more? I'm so flattered! You can also follow me on Instagram or TikTok, or check out my tips-laden e-book collection. The newest addition, Meal Prep Made Simple, is available to order now!
This post may include affiliate links. Your shopping experience will not be affected, but Erica might earn a small commission on the goods purchased through those links. Thanks for supporting Erica's work!
The Fresh Letter is a reader-supported publication. To receive new posts and support my work, consider becoming a free or paid subscriber.